Department of Electronic Systems
Signal & Inf. Processing (SIP)
SIP has a wide variety of professional audio equipment and over 1200 m2 acoustic facilities at international standards. SIP has expertise in acoustics, psychoacoustics, speech-, audio-, and signal processing, information theory and communications.
Jan Østergaard
Lars Bo Larsen
Søren Holdt Jensen
B&O manufactures high-end audio and video components for domestic markets and considers sound zone technology a future key area. Hosting departments are Acoustics Research and Development with a staff of 20+. Applied research is performed in areas of audio perception, signal processing, sound field synthesis, machine learning, and electroacoustic.
Anders Kriegbaum, Project manager
Søren Bech, Director, Research
Martin B Møller, Research Specialist
Klaus Kristensen, Research Specialist
Pablo Martinez-Nuevo, Technical Specialist
Miklas Strøm Kristoffersen, Research PostDoc
Vicki Hørup Jeppesen, Coordinator Agile Support
Department of Computer Science
Human-Centered Computing (HCC)
HCC contributes with knowledge in natural user interaction, emerging interaction technologies, and longitudinal user studies in health as well as home.
Jesper Kjeldskov, Professor
Peter Axel Nielsen, Professor
Mikael B. Skov, Professor
Anders Bruun, Associate Professor
Stine Schmieg Lundgaard, PhD student
Shagen Djanian, Research Assistant
Rune Møberg Jacobsen, Student Programmer
Wavecare implements sensory technology for ambient interventions inside healthcare in Denmark and Asia. Wavecare has evidence-based solutions combining sound, visuals and light for reduced stress and anxiety. Wavecare aims for improved sound speaker systems to solve already experienced challenges where adaptive sound systems could enhance patient care and working environments. Wavecare contributes with custom-made music and sound environment and field studies in healthcare.
Eva Wennerwald
Bjørn Wennerwald
SoundFocus develops and manufactures systems for audio playback and analysis, primarily for use in healthcare. The sound playback systems provide individual sound zones where music and other sounds are played to reduce stress and offer a sense of privacy, even in multi-bed wards. SoundFocus has competences within signal processing, acoustics, machine learning and user interaction and has experience in using low-cost sensors (microphones) plus advanced signal analysis to estimate sleep quality.
Kim Rishøj
Søren H. Nielsen
WP1 CREATING DYNAMIC SOUND ZONES
WP leader: B&O
Objective: Partners in WP1 will develop knowledge and technology required for dynamic sound zones. They aim to demonstrate that it is possible to control sound exposure at the point of the listener using sound zones with the adaptive signal processing loop proposed.
WP2 INTERACTING WITH DYNAMIC SOUND ZONES
WP leader: SoundFocus
Objective: Partners in WP2 will develop knowledge and technology required for user interaction with dynamic sound zones to sense and adapt to users, and be made visible and controllable. They will demonstrate that it is possible to make dynamic sound zones interactive and self-adjustable based on user sensing and NUIs.
WP3 Test and Deployment
WP leader: Wavecare
Objective: Partners in WP3 will determine the perceptual QoE attributes of audio for sound zones. They will collect evidence on dynamic sound zones' effects on health and well-being (patients, staff, householders), and determine how they are perceived and used in real-life (health and home). Furthermore, the partners will evaluate prototypes and inform direction of further work.
WP4 Governance
WP leader: B&O
Objective: Partners in WP4 will ensure the project is progressing as planned and that expected synergy between WPs is achieved.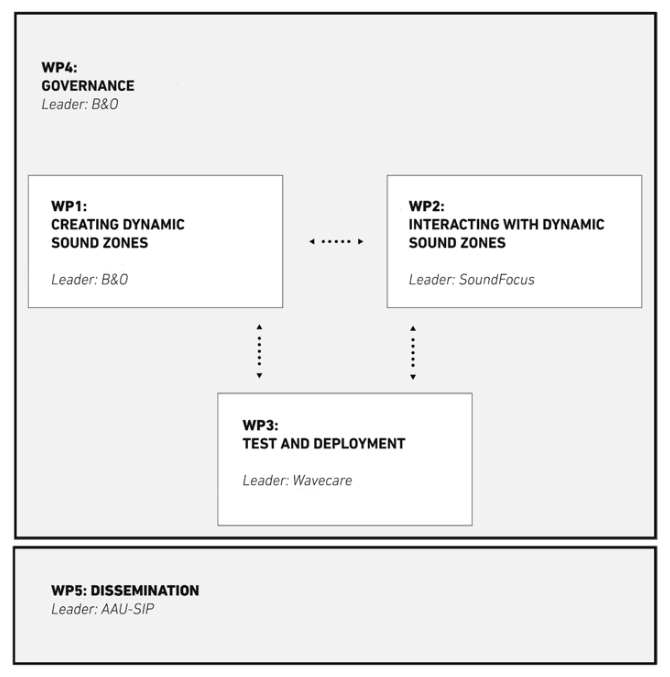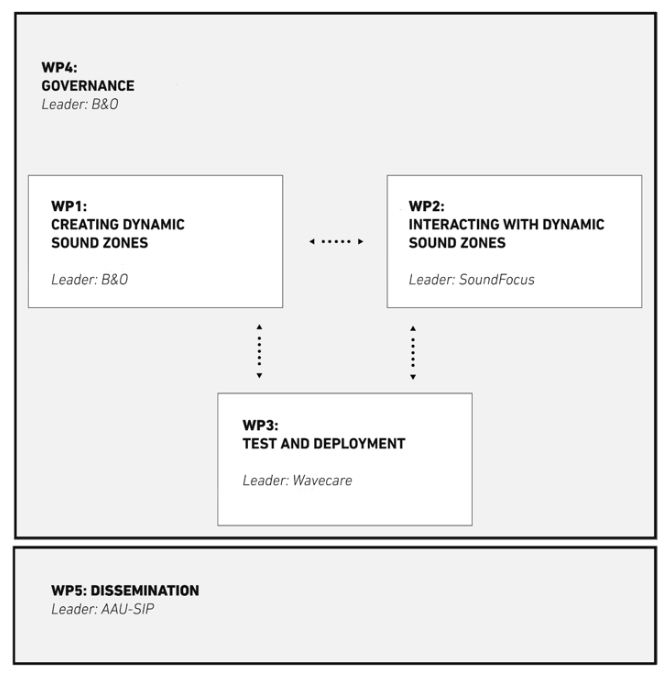 WP5 DISSEMINATION
WP leader: AU-SIP
Objectives: Partners in WP5 will ensure visibility of the project and its results in the scientific and practice community and to the public. Activities include publications, conference presentations, workshops for industry and future customers, press releases to media, and presence at relevant public events e.g. Danish Sound Day.
ISOBEL


Interactive Sound Zones for Better Living